1963 - New beginning.
As already mentioned in the previous year, Ken Gregory had come to Denham in June 1962. He began operations as Gregory Air Taxis equipped with a single Piper PA-24 Comanche, G-ARIE. The long range of the Comanche made it an excellent machine for use throughout the UK. This venture was so successful that in March 1963 Gregory Air Taxis became a registered limited company, employed its first full time chief pilot, John Bennett, and acquired a second aircraft, a Piper PA-23 Aztec 250A, G-ASHH.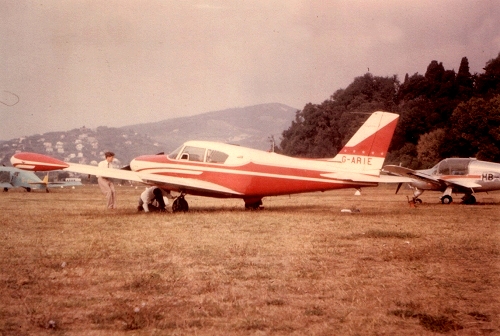 Piper PA-24 Comanche G-ARIE at Cannes in September 1963. The long range of the Comanche made it a useful business aircraft.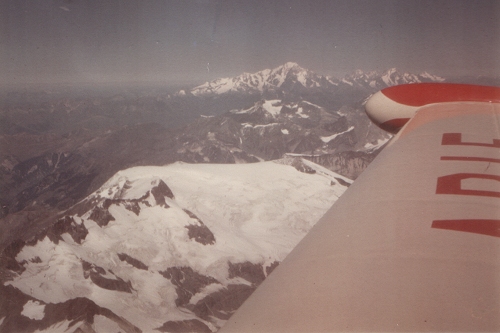 The view over G-ARIE's wing towards the Alps on the way back from Cannes.
BEAS had closed the Denham Air Centre in December 1962, largely because the advantages of helicopters and the uses to which they could be put were not really understood by the wider community. Consequently, the centre had never become a financial success. The new director of the London School of Flying based at Elstree was keen to open a new branch of the flying school at Denham. David Ogilvy, a former RAF Mosquito pilot who would later chair the Shuttleworth Collection and co-found Aircraft Owners and Pilots Association (AOPA), saw that a school could be set up quickly in the existing buildings that had originally housed the Denham Flying Club. Called the Denham School of Flying, the new school was one of three owned and operated by Derby Aviation Ltd, who brought several of their de Havilland dHC-1 Chipmunks over from Elstree.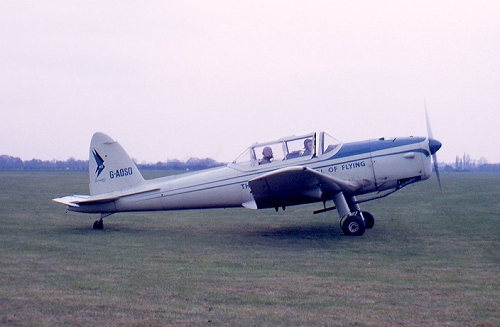 de Havilland dHC-1 Chipmunk G-AOSO of the London School of Flying at Denham in April 1963. This was one of several aircraft from the Derby Aviation fleet that formed the Denham School of Flying.
The United Biscuits Aviation Department replaced their aircraft on 27 September by purchasing a new Piper PA-23-250 Aztec, G-ASEV. The aircraft had improved avionics including the Decca Navigator to enable bad weather approaches to airfields with no navigation or similar aids.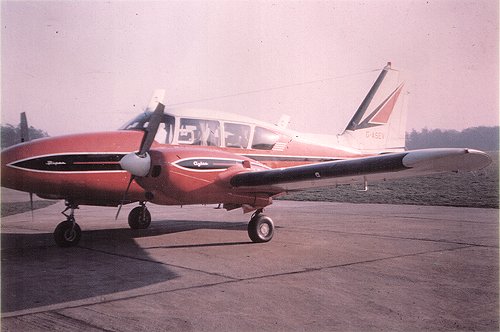 United Biscuits' new Piper PA-23-250 Aztec, G-ASEV, had improved avionics for bad weather flying.
The Swiss aircraft manufacturer Pilatus wanted to sell their aircraft in the UK so set up a British subsidiary company, Air Porter Ltd, to market and demonstrate the remarkable Pilatus PC-6 Porter to customers. The aircraft was operated for them by Gregory Air Taxis at Denham from September onwards, not only flying demonstration flights but also a number of customer charters on the manufacturer's behalf. This happy arrangement only came to an end when the aircraft was sold to a private owner in April 1964. The aircraft in question was the prototype of the PC-6/350, HB-FAG, which was to have a long career. After being sold to the African Flying Doctor Service in Nigeria in 1964, it was to be used by three charter companies in Ethiopia up until 1988 when it was withdrawn from use and eventually scrapped in 1992. Not bad for a prototype!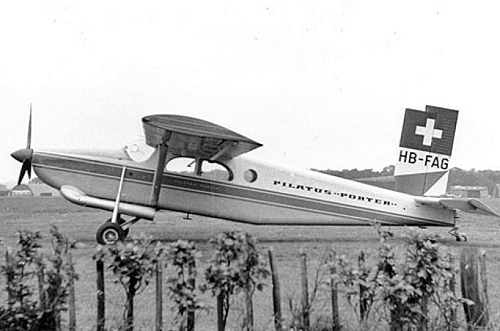 HB-FAG was the prototype Pilatus PC-6/350 operated at Denham by Gregory Air Taxis on behalf of the manufacturer's British subsidiary, Air Porter Ltd.
A company based at Denham found their aircraft so useful for communications throughout the summer that they wanted to carry on operations in the winter. Short days and bad weather made runway lights essential, therefore a flarepath was installed on 8 April. This was a single row flarepath of lights installed along the longest length of grass available on the aerodrome to assist in bad weather and low visibility approaches and landings. This flarepath appreciably increased the safety of company operations at Denham.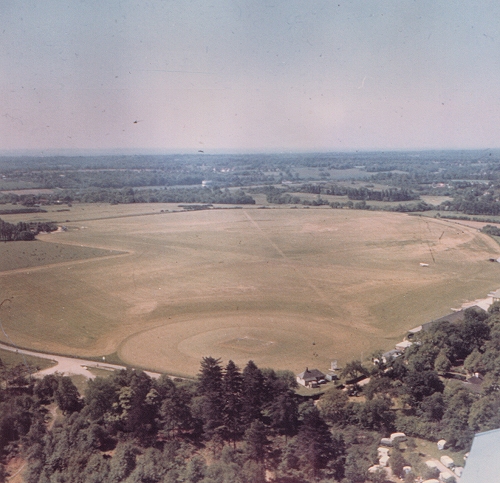 Looking south west across Denham Aerodrome in 1963, the line of the new flarepath can be seen following the longest length across the airfield.
On November 18, Gregory Air Taxis suffered a setback when their Comanche, G-ARIE, had an undercarriage collapse at Hatfield, badly damaging the aircraft. While this was being repaired, a second Piper PA-23 Aztec, G-ASFG, this one a later 250B model, was leased from December for six months to cover the companies' commitments. Even though G-ARIE was repaired, it was little used after this and sold in October 1964.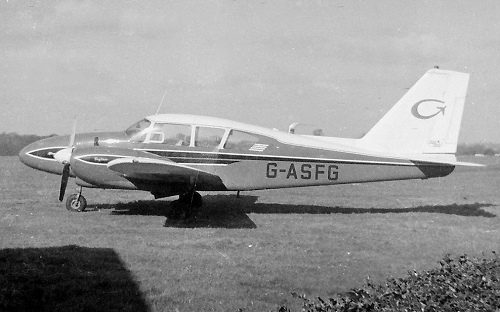 Piper PA-23 Aztec 250B, G-ASFG, was leased for six months from December 1963 by Gregory Air Taxis form the owners, CCF Aviation.
It seemed to be a year for Piper Comanches and wheels up landings, as another took place at Denham with one of the residents, G-ASDN. The aircraft had been purchased on 28 December 1962 and the owner was still getting used to the high performance type in the spring of 1963 when the mishap occured. As can be seen, there was snow on the ground and as a result the aircraft suffered very little damage, in fact this particular Comanche was to go on flying in the UK until it was exported to Swaziland in 1982.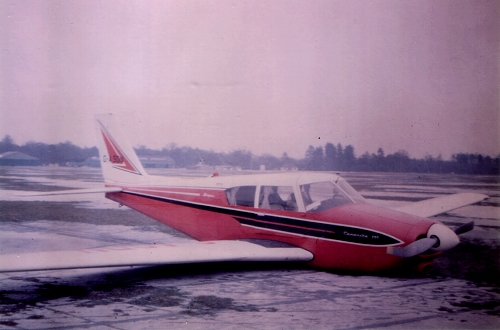 Piper PA-24 Comanche landed wheels up at Denham in the early spring of 1963, the owner, Mr Wallis, was unharmed and the aircraft little damaged by the mishap.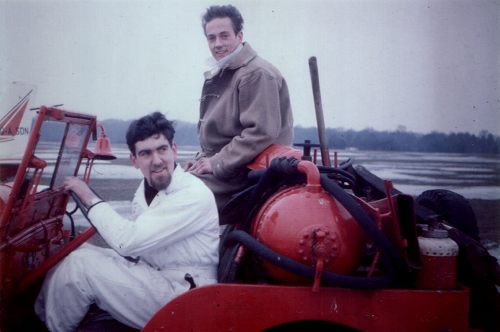 David Bailey and Mike Ashley manned the Denham Fire and Rescue Land Rover and attended the incident with G-ASDN.
To supplement the highly successful air taxi business, Ken Gregory formed Gergory Air Charters toward the end of 1963, with a view to acquiring a larger and more substantial fleet of aircraft, something he would achieve during 1964. He also took over Marshall Dunn Aero Services, the aircraft engineering company at Denham, forming Gregory Air Engineering to offer maintenance services as before, keeping Marshall 'Fred' Dunn on as chief engineer and to manage the business. Although he had achieved a great deal in just two years, Ken Gregory was just getting into his stride, as will be related next.
| | | |
| --- | --- | --- |
| | | |