1965 - Gregory expands.
Air Gregory continued to expand their air taxi and charter businesses with the purchase of a number of new aircraft. The six or seven passenger Aero Commander 500A, G-ASIO, was the first of these. Its increased seating, speed and long range made it ideal for the air taxi role. The next aircraft was introduced on 20 April and was intended to take over from one of the Twin Comanches to operate charter flights out of the North East of England to Beauvais, Luxembourg and Ostend, as well as ad hoc operations from all of the Air Gregory bases in the UK. The aircraft in question was G-AKJH, a Douglas C-47A Dakota III, which, when it first appeared at Denham dwarfed the other aircraft at the aerodrome.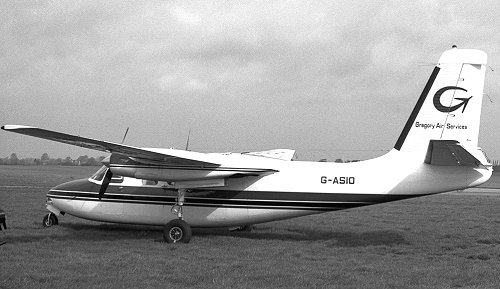 March 1965 saw Air Gregory acquire G-ASIO, an Aero Commander 500A.
G-AKJH had a fascinating history, being built for the US Air Force in 1942 as 42-93271 before being supplied to the Royal Air Force as KG572. Its civil career began after disposal at the end of the war with Scottish Aviation Ltd in October 1947 before becoming the personal aircraft of His Highness the Maharajah Sir Pratapsinha Gackusan of Baroda in 1948. In mid 1950 Skyways Ltd operated the aircraft for six months, before it was bought by British European Airways who were to fly it for the next ten years in their 'Pionair' Class. From 1961 to April 1965, G-AKJH was operated by British Midland Airways, before it was purchased by Air Gregory. They were to use the aircraft until June 1967 when it was transferred to Ireland for six months on loan, returning to Air Gregory in December and continuing in service until August 1968 when it was exported to South Africa for Protea Airways. It was then to be used by airlines in Botswana and Swaziland before being purchased by the Rhodesian Air Force as R3700 and delivered to 3 Squadron at New Sarum. This became 3700 with the formation of the Zimbabwean Air Force in 1980, the aircraft finally being withdrawn from service in 1985. An eventful 43 years to say the least! To return to Air Gregory at Denham, these two aircraft were not the only changes to their business in 1965, nor were they the only aircraft the company were to buy in this year.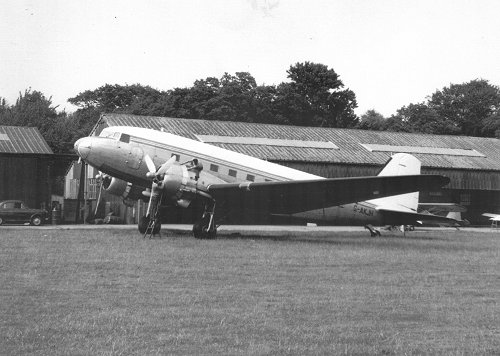 The following month the Air Gregory fleet expanded again when Douglas C-47A Dakota III G-AKJH was purchased. This aircraft had a fascinating history.
Ken Gregory expanded his businesses still further in the Spring by becoming an official Piper Aircraft Agency. This enabled him to sell and maintain Piper aircraft in the UK on behalf of the manufacturer. The Gregory Group also established two new bases, at Gatwick and Plymouth, to operate air taxi and charter flights. Lastly, they expanded in an entirely new direction by purchasing the Denham School of Flying from Derby Aviation Ltd, who kept their London School of Flying at Elstree under David Ogilvy. Gregory immediately began buying a fleet of aircraft to fullfil the needs of what was now called the Gregory Flying Training School, and took over the whole of the building on the south side of Denham, half of which was to serve as offices and a passenger terminal to Gregory Air Taxis and Air Charter, the other half as classrooms and offices for the new school.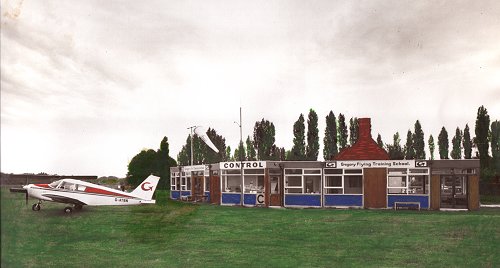 A hand tinted picture of the new Gregory School of Flying with its first Piper PA-28-140 Cherokee, G-ATBN, and de Havilland dH.82a Tiger Moth, G-AMTK, parked outside.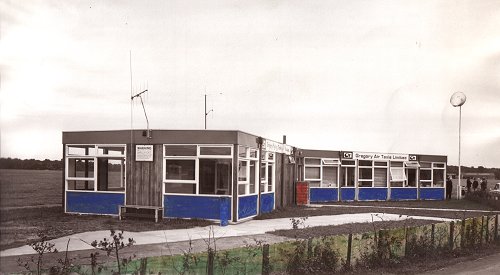 Another hand tinted view of the Gregory School of Flying, showing the Air Taxi offices on the other end of the building.
The first training aircraft purchased was in February before the flying school deal was finalised, a de Havilland dH.82a Tiger Moth, G-AMTK. This was to be followed by three Piper PA-28 Cherokee 140s, G-ATBN and G-ATBO on 3 March, and G-ATJD on 7 October. The Gregory Air Taxi fleet of Twin Comanches and Aztecs were also available for use as more advanced multi engine trainers. Towards the end of the year the training fleet was expanded still further with the purchase of a Beagle A61 Series 2 Terrier, G-ASCF, on 23 October and a Piper PA-22-160 Tri-Pacer, G-ARAG, on 21 December.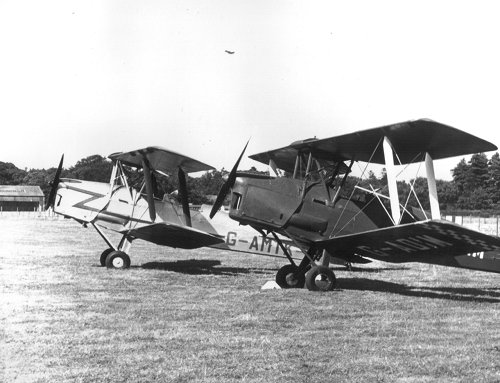 Gregory purchased de Havilland dH.82a Tiger Moth G-AMTK in February, before the deal for the school was even finalised.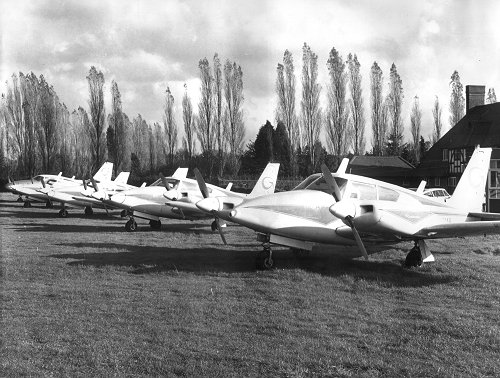 The Gregory Air Taxi fleet of twin engined Piper aircraft were also used as advanced and multi engined trainers by the new school.
Meanwhile, having gained her twin rating and Commercial Pilots Licence, Beatrice Bickerton began flying professionally. Her first job was as a first officer with Sky Charters, operating a number of de Havilland dH.104 Doves in Europe.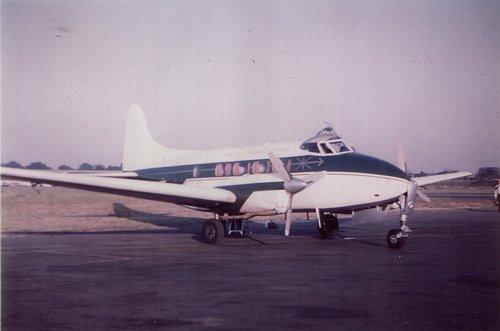 Sky Charters de Havilland dH.104 Dove 2, G-AJOT, at Antwerp in 1965.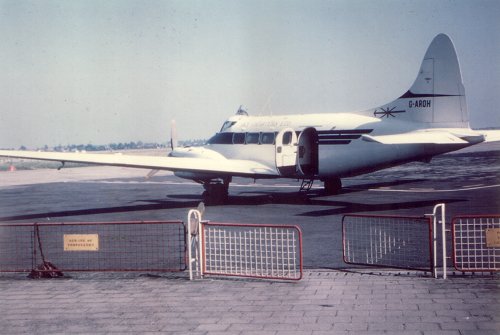 Sky Charters de Havilland dH.104 Dove 5, G-AROH, at Southend in 1965.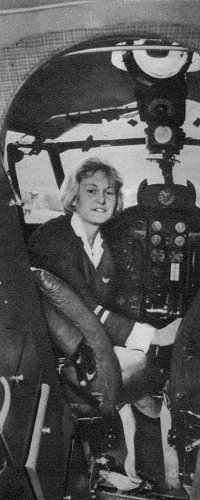 Beatrice Bickerton in the cockpit of a Sky Charters Dove.
The success of the Gregory Group had not gone unoticed by other companies. One of these was Parker and Head Ltd, better known as P and H Autos, who purchased a very rare type to operate as a charter aircraft from airfields in the South East of the UK. A frequent visitor to Denham, their aircraft, G-ARNV, was an Italian Procaer F15B Picchio, one of only twenty built. A development of Stelio Frati's superb Falco design, the four seat aircraft was of wooden construction with a thin aluminium covering over the formed plywood skin. This aircraft was a regular visitor to Denham from 1965 to January 1967 when it was sold to a private owner.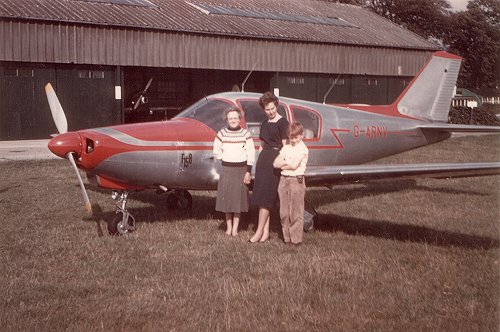 Aerodrome Manager Eva Bickerton with G-ARNV, an Italian Procaer F15B Picchio operated as a charter aircraft by Parker and Head.
There were a number of other rare and interesting visitors to Denham throughout 1965. One notable example was Beechcraft N35 Bonanza, G-ARZN, one of the rare butterfly tail versions of this very successful aircraft. This aircraft was purchased from new by Innes Ireland Ltd, a company set up by the racing driver of the same name. Innes Ireland was a remarkable character, a Rolls Royce trained engineer then a Parachute Regiment Officer who served in the Suez Canal Zone during the 1950s. He returned to the UK and started racing in a Riley 9, setting up his own engineering company to prepare the cars. His success in sports car racing led to him driving Formula One cars for Lotus, BRP and BRM, and the Bonanza was used to reach racing circuits and engineering companies throughout Europe.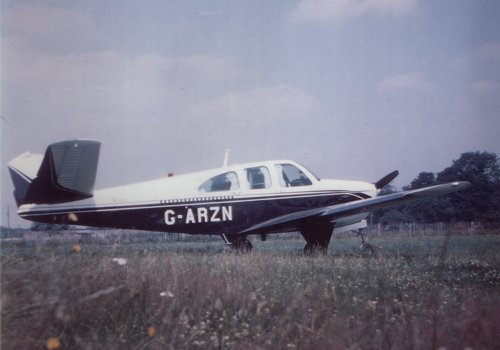 Innes Ireland's butterfly tail Beechcraft N35 Bonanza at Denham in 1965.
With the new flying school established the business side of aviation at Denham was about to develop still further, as will be related next.
| | | |
| --- | --- | --- |
| | | |