1968 - A year of change
Gregory Air Services, now known as Air Gregory, expanded greatly in 1968 with a number of purchases, the first of which were several new Piper PA28 Cherokees for the Gregory School of Flying at the beginning of the year. These were to be followed by two more Hawker Siddeley HS.125 business jets, G-AVOI, a Series 3B aircraft bought in May, and G-AWUF, another Series 1B, which was acquired in November. Like the first of the HS.125s, G-ASNU, they were based at Luton, but unlike that aircraft, they were operated purely by Air Gregory who had by now built up their operational base at that airport. Interestingly, the HS.125 was originally a de Havilland design and long time friend of Denham Aerodrome, Harry Sturgeon, had a hand in its design and production. Harry's fascinating career is detailed in the 1957 section of this history.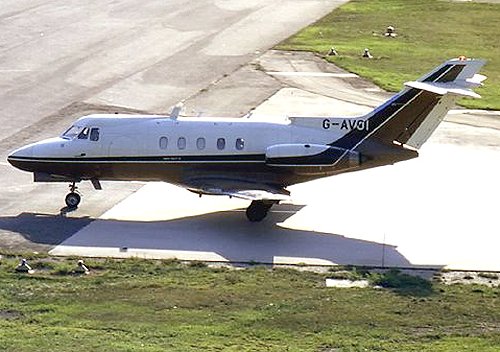 G-AVOI was the second Hawker Siddeley HS.125, a Series 3B aircraft, purchased by Air Gregory in May 1968.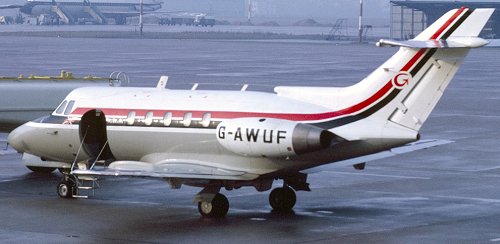 This was followed by G-AWUF, a Series 1B aircraft, acquired in November.
Despite the Tshombe affair, for which see 1967, Ken Gregory was supremely confident of the potential of his fleet. So much so that in October 1968 he was to purchase larger propellor driven aircraft for his air taxi and small charter business, three de Havilland dH.104 Dove Series 1s, G-ALBM, G-ANMJ and G-AVOY. The added advantage of the Dove was that it could operate from Gregory's home base at Denham, it could carry eleven passengers over a range of 1,420 kilometres, yet only needed a runway of 650 metres, performance capabilities that admirably suited Gregory's operations.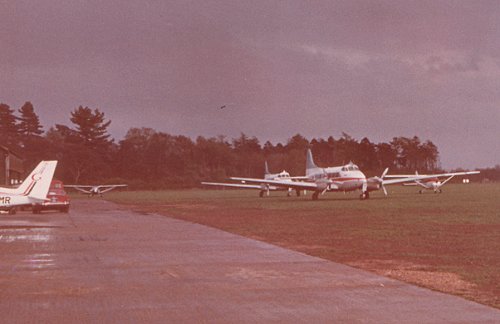 Two of the three de Havilland dH.104 Doves purchased by Ken Gregory, seen here at Denham in October. On the left of the picture is the tail of G-ASMR, one of the new Piper PA-28 Cherokees at the Gregory School of Flying.
Lastly, the Gregory group of companies began moving in an entirely new direction, if you will pardon the pun. In December 1967, the group had purchased its first helicopter, a Sud Aviation SE.3130 Alouette II, the first production helicopter in the world to be turbine powered. G-AVEE was based at Denham from January 1968 and was used for short charter and air taxi flights in the London and Home Counties area. Its fuel efficient Turbomeca Artouste IIC6 turboshaft engine producing 530 shp and giving the Alouette II a useful range of 565 kilometres with one pilot and up to four passengers, ideal for the air taxi business.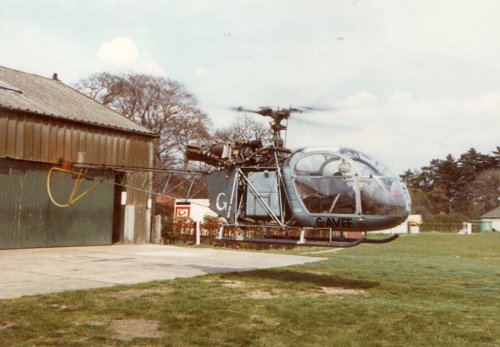 The Sud Aviation SE.3130 Alouette II G-AVEE was the first helicopter purchased by the Gregory Group, it was to be the first of many. The aircraft is seen here at Denham in 1968 with Barry Bird at the controls.
The success of the Alouette II for Air Gregory was to prompt not only the development of a helicopter arm of the air taxi and charter business, but during December, a new branch of the Gregory School of Flying. On 2 December, G-AWVL, a Hughes 269A two seat helicopter joined the fleet to allow helicopter pilot training to take place at Denham. Powered by a 180 hp Lycoming HIO-360 piston engine, the light helicopter was a tremendous success, with over 2,800 military and civil versions being built. The second set of controls could be removed, allowing Gregory Air Services to use theirs as a trainer or as an air taxi for a single passenger. This side of the business was to expand in some unexpected directions, as will be explained later in this history.

G-AWVL, the first Hughes 269A purchased by Air Gregory to offer helicopter pilot training, seen here at Denham in 1969.
Air Gregory were not the only company expanding their capabilities at Denham during 1968. United Biscuits had grown considerably during the 1960's, acquiring three other companies and setting up a new division in Denmark. This meant their aviation requirements had also changed, and a more modern, faster and more capable aircraft was needed. On 20 October, Hughie Kennedy had travelled to the Beechcraft factory in Witchita, Kansas to take delivery of what was essentially a mini-airliner, the Beech B90 King Air, G-AWPM. This was a quantum leap in technology over the earlier Piper Aztecs and the Aero Commander. Powered by two Pratt and Whitney PT-6 turboprops producing 550 hp, the B90 was fully pressurised and air conditioned, able to operate at much higher speeds and altitudes than had been previously possible. The aircraft was also fully equipped with modern avionics including a full Collins Flight Director and weather avoidance radar, giving it the ability to operate at night and in all weathers. The B90's arrival at Denham caused something of a stir as the aircraft truly was the shape of things to come in 1968.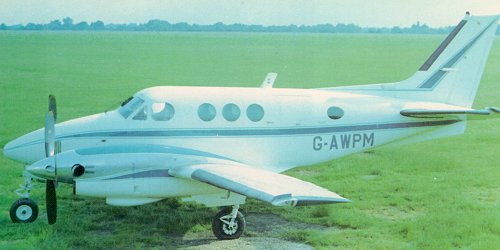 In October 1968, the Beech B90 King Air, G-AWPM, represented a tremendous advance in capablity for the United Biscuits Aviation Division.
Despite their expansion during 1968, the Tshombe affair had left the Air Gregory Group with an expensive aircraft that earned no income and other companies had become interested in the great success the Group was enjoying. Their financial exposure caused by the HS.125 being held in Algeria for nearly a year meant that in December the business was bought out by the Bristol Street Motor Group. Given his success, Ken Gregory was kept on the board of directors as his experience and knowledge of the market was invaluable. However, this was to have unforeseen consequences for him, as will be related next.
| | | |
| --- | --- | --- |
| | | |