1961 - Time to look forward
As already mentioned, Hector Laing had initiated the Aviation Department of United Biscuits in 1959 and based the company aircraft at Denham. They began with a Miles Gemini which was followed by a Piper Apache later in that year. On 26 April 1961 they acquired a new Piper Aztec, G-ARHL. The Aztec was a significant improvement over the earlier aircraft, especially in single engined climb performance, an important safety consideration. The Aztec had a pair of Lycoming 0-540 engines of 250 hp, giving it a top speed of 200 mph and a range of 1,400 nautical miles.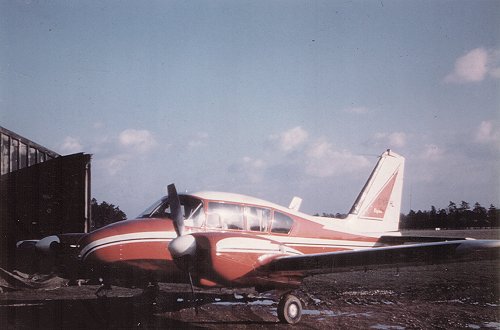 Piper Aztec G-ARHL was purchased in April 1961 for United Biscuits and based at Denham.
The Denham Flying School on the south side of the aerodrome was operating a fleet of Austers, Magisters and a Piper Caribbean. One of the Miles Magisters was G-AKPG, and on 10 July 1961 Myles Bickerton's youngest daughter Beatrice flew her first solo in this aircraft. She was to go on to have a career as a professional pilot, and would later become a person of import to the story of the aerodrome.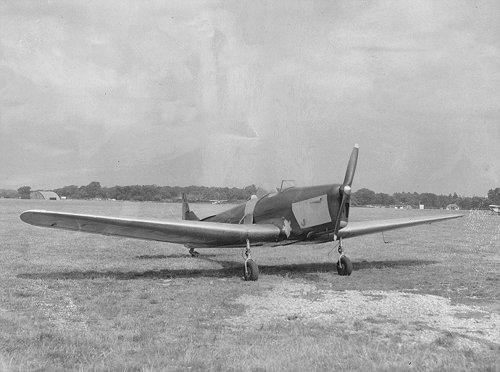 Miles Magister G-AKPG was part of the Denham Flying School and the aircraft Beatrice Bickerton flew her first solo on 10 July 1961.
In 1960, planning permission for a new hangar had been applied for but refused. However Myles's wife, Eva, was running the aerodrome and she determined to undertake the considerable effort and stress of appealing against this decision. Fortunately the outcome was successful, even more so because the judge on this occasion made some very useful comments regarding the future of general aviation. It was not long before Taylor Woodrow started to build a fine hangar that is Hangar E today.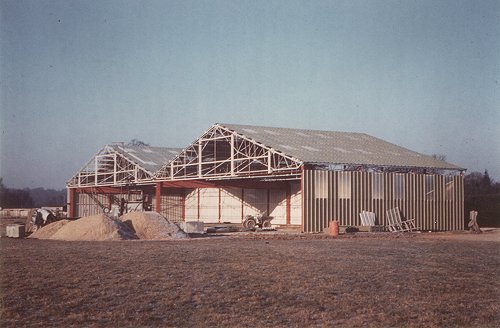 Hangar E under construction, designed and supervised by Taylor Woodrow.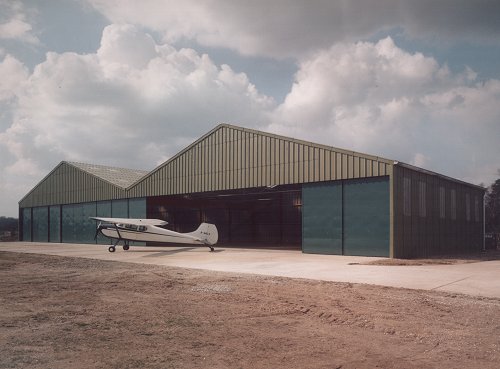 The brand new Hangar E with Cessna 170 G-ABLE, a long time 1960s Denham resident parked on the apron.
Denham Aerodrome is largely lying over a gravel soil. Myles was concerned to see the builders digging pits and trenches for the foundations in such hard ground, by hand. He discussed this with the ground engineer, Mr Darvell, who whisked him off to the industrial machines exhibition. After being entertained at almost every stand selling tractors with digger arms, Myles returned home the proud owner of a Massey Ferguson 203 tractor, digger, shovel. He soon learnt to operate it to the nearest inch and said using it gave him more pleasure than if he had bought a fine car. It was a huge success on the aerodrome for many years to come. This useful asset, purchased in 1961, became affectionately known as Nellie at Denham.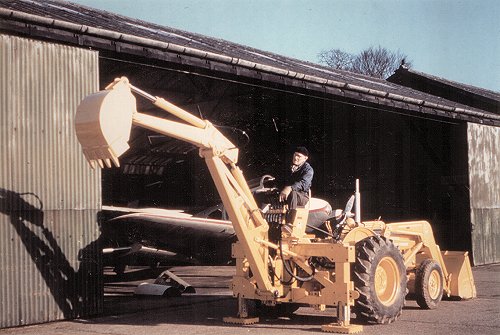 Myles Bickerton practices with the controls of the new Massey Ferguson tractor with its adaptable digger attachments.
With the departure of Nightscale Air Services at the end of 1959, the aerodrome was without engineering services on site. This was solved with the arrival of engineer Marshall 'Fred' Dunn, who formed Marshall Dunn Aero Services at Denham early in 1961. The new company provided engineering and maintenance services for aircraft on the airfield, as well as to visitors, and its reputation quickly grew. Aside from being an excellent engineer, Fred Dunn was also very helpful by nature and assisted the aerodrome in many ways, spending the next decade at Denham.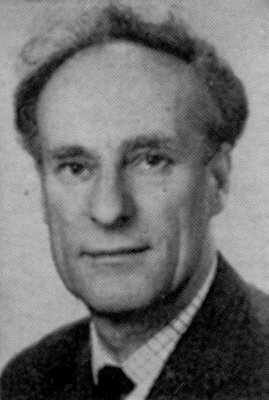 Marshall 'Fred' Dunn formed his engineering company at Denham early in 1961.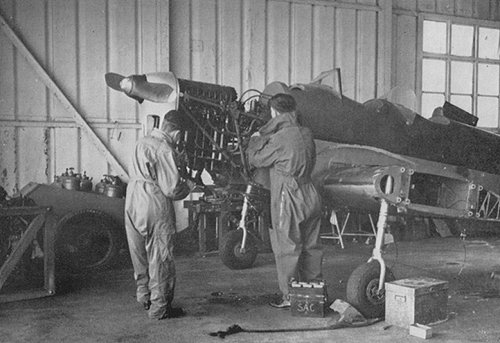 A Miles Magister under maintenance at Denham.
Hangar E, completed in December, was rapidly filled with aircraft seeking shelter from the elements and the smaller hangar now provided a dedicated space for repairs and expensive tools. Many of these aircraft had interesting stories, as will be told next.
| | | |
| --- | --- | --- |
| | | |