Cometh the hour, cometh the man - John Myles Bickerton
There are a number of individuals who are vital to the story of Denham Aerodrome but none as important as John Myles Bickerton. The story of this remarkable man could be taken from the pages of Rider Haggard or The Boys Own, if these were combined with a medical history of ophthalmic surgery in Britain, for Myles, as he was popularly known, was a true renaissance man. His interests were wide ranging; from the most delicate of surgeries through to aviation, history, politics and the care of the environment a long time before this became the celebrated cause it is today. He served his country in both World Wars, seeing active service in the Royal Navy in the first and as a Volunteer Reservist in the Royal Air Force in the second, in between times becoming a successful ophthalmic surgeon and founding Denham Aerodrome as we know it today.

John Myles Bickerton in the cockpit of the first aircraft he owned, de Havilland dH.60 Moth G-ABAG.
John Myles Bickerton was born at Hoylake in Cheshire on 28 August 1894, the youngest son of Thomas Herbert and Mary Jessie Bickerton. His father was a well established ophthalmic surgeon based at 88 Rodney Street in Liverpool and Denna Hall in Cheshire, publishing a wide variety of surgical papers during his distinguished career which saw him take up appointments in London and Vienna amongst others. Myles, as he was generally known, began his education at The Down's School in Malvern before moving closer to home at The Leas School in Hoylake. In 1911 he became a pupil at Leighton Park School in Reading, a Quaker school that had an excellent reputation for preparing students for university.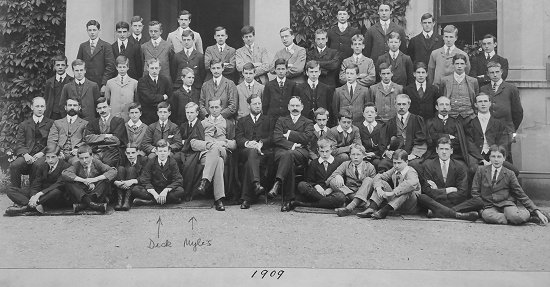 Students at The Leas School in Hoylake in 1909. Myles and his older brother Dick are marked with arrows.
The system at Leighton Park included sharing studies and interestingly, between 1912 and 1913, Myles' companion and fellow member of the cricket team was Egbert Cadbury, grandson of the founder of the famous chocolate company. Egbert Cadbury was to become a pilot in the Royal Naval Air Service, shooting down two Zeppelins, the L.21 on 28 November 1916 and the L.70 on 5 August 1918, being awarded the Distinguished Service Cross and the Distinguished Flying Cross for these actions.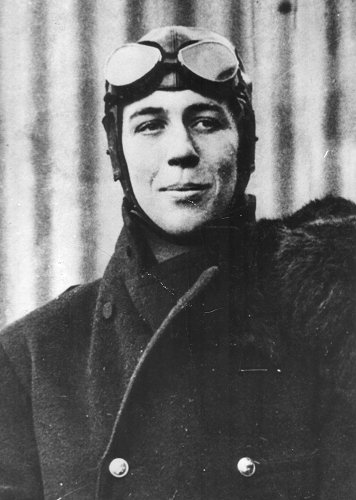 Egbert Cadbury, later Sir Egbert, was Myles Bickerton's study companion at Leighton Park School.
Myles' interest in his father's work meant he had already decided he wanted to follow in his father's footsteps, which led to his successful application to study medicine at Pembroke College in Cambridge in 1913. In his first year, Myles successfully passed his 2nd M.B. (Cantab), the initial examinations that proved him competent as a student to go on to study clinical medicine. His studies were interrupted by the events of 28 July 1914 which saw the First World War begin. In a typically pragmatic letter home on 7 August Myles stated: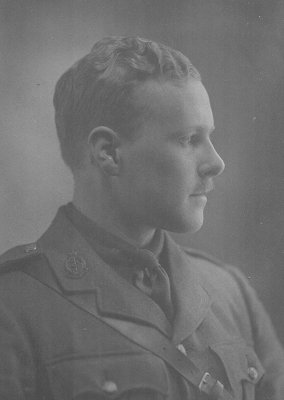 John Myles Bicketon volunteered for the Royal Army Medical Corps at the outbreak of the First World War.
"There are very few men left up here now, three quarters of Pembroke have gone, joining different branches of the Reserve Army. Those men who were unable to join owing to a lack of previous military training in the School Corps etc, or those whose parents did not give permission, have joined the Royal Army Medical Corps (RAMC) for ambulance work or dressing etc for medicals. Dick and I have joined this in preference to the Motor Cycling Corps etc, Dick for Home Service only, but I put myself down for Home or Foreign Service. However I am told that for Foreign Service it's necessary to have one's parents consent. There is no immediate hurry however and I will do exactly as you like about that. We should not be sent abroad for a few weeks probably as we have begun the course of instruction necessary already. Those who have done most medicine will probably get the best and first positions; some have gone to Harwich already."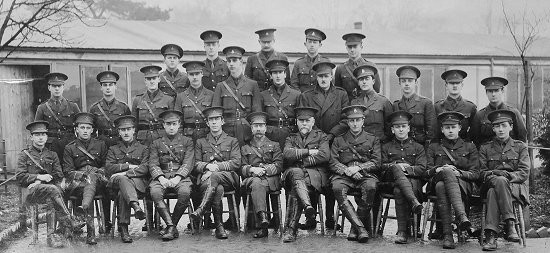 The staff of 1 Eastern District Hospital with its commander Colonel Griffiths in early 1915. Myles Bickerton is in the middle row, fifth from the right.
Myles volunteered for the RAMC and served for eighteen months at the 1st Eastern District General Military Hospital in Cambridge, tending to the wounded being sent back from the front in France. Myles' work ethic became apparent in these early years, as at the same time he also carried out additional work at Adenbrooke's Hospital and worked as the Demonstrator of Anatomy in the Medical School, all of these between December 1914 and May 1916. Despite the reserved nature of his occupation under the terms of the Military Service Act 1916, Myles decided that the training programme in the Royal Navy offered better opportunities for a surgeon and elected to continue his military service as a Surgeon Probationer in the Royal Naval Volunteer Reserve (RNVR). He was influenced in this decision by one of the lecturers at Cambridge, Professor Simms Woodhead, who had recruited a number of medical students from Cambridge for the Harwich naval force, a possibility he alluded to in his letter home.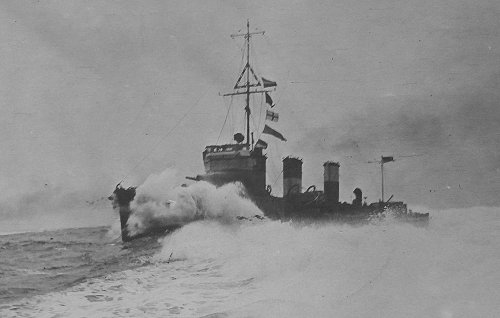 HMS Lawford in 1916, taken from the first ship of the type built, and the one that gave her name to the class, HMS Laforey.
In June 1916, Myles joined HMS Lawford under the command of Lieutenant Commander Arthur Scott. The ship was part of the Harwich Force's Ninth Destroyer Flotilla which was responsible for the East Coast, North Sea and the Dover Patrol. Lawford was one of 22 Laforey class destroyers, built by Fairfields and launched on 30 October 1913. The destroyers of the period were light and fast, the Laforey class being armed with three 4 inch Q.F. Mk IV guns on P.IX mountings on the centreline of the vessel and twin 21 inch D.R. Mk I torpedo tubes mounted midships. The ships were capable of 29 knots and could also carry mines which were deployed from the rear deck. If the rear gun and mount were removed then depth charges could be carried on the rear deck for anti-submarine work.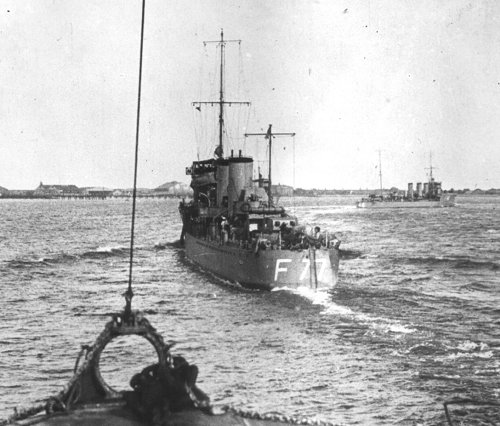 HMS Sybille was one of seven R class destroyers built at Yarrow and known as Yarrow Specials.
Similarly armed were the new "R" Class Destroyers, one of which, HMS Sybille was launched on 5 February 1917, joining the Flotilla later that month. Myles was transferred to Sybille in March, and was much impressed by the performance of the "R" class destroyers, the Sybille in particular recording 39 knots in trials. Sybille was one of seven "R" class built not to the original Admiralty design but by private contractors at Yarrow and known as the Yarrow Specials. Commanded by Lieutenant Commander Charles Blackman, it was in HMS Sybille that Myles saw his first combat, during the destroyer action off the Belgian Coast near Zeebrugge on 10 May 1917. Here seventeen German destroyers in three Divisions were met by four British destroyers from Harwich, including the Sybille and the Taurus, as they sortied from Zeebrugge. The British force gave chase, exchanging fire the whole time with the German ships which were equipped with longer range guns, necessitating the British destroyers close the range while under fire they could not return. The German force retired to Zeebrugge in the belief the smaller British force would only attack so aggressively if supported by larger or capital ships further out to sea. As a baptism of fire for Myles it was a successful attack, little damage being done to the British destroyers while driving off a numerically superior enemy force. For Myles, it was also a lesson in the efficacy of private enterprise as when ordered to steam at full throttle towards the Belgian coast, the privately built faster ships sailed closer to the enemy.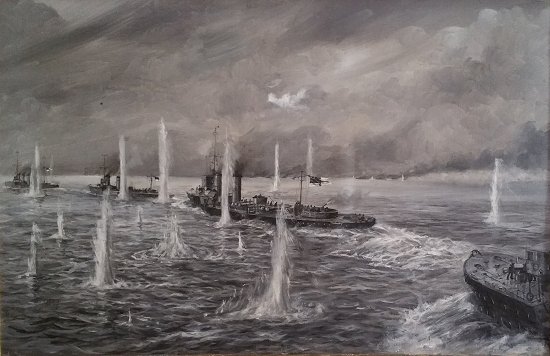 The destroyer action off the Belgian Coast near Zeebrugge on 10 May 1917. The three groups of German destroyers can be seen on the horizon, their shot falling all around the British ships which were out ranged by the guns of their opponents.
1917 also saw another turning point in the experiences of the young doctor, as he was taken flying for the first time from the aerodrome near Dover by the Commanding Officer of the flying training unit at the station. HMS Sybille was based at Dover at the time providing protection for the troop, transport and supply ships shuttling back and forth across the Channel to France. The pilot in question was none other than Captain James McCudden, who was to become one of the most successful and decorated pilots of the First World War, being awarded the Victoria Cross amongst many other medals for his exploits, which included 57 enemy aircraft shot down. Myles made a number of flights with McCudden, experiences which were to shape the rest of our story.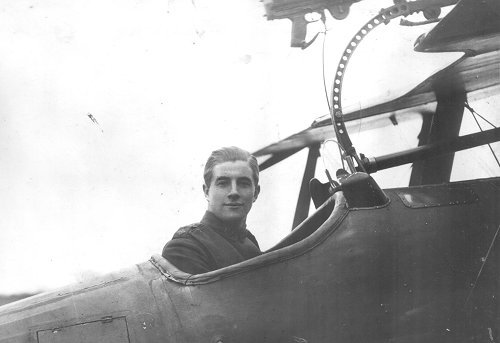 Captain James McCudden was serving as an instructor at Dover and took Myles Bickerton on a number of flights in 1917.
Part of Myles' RNVR service included an obligation to continue with his medical qualifications, but due to his war service he had been unable to sit the entrance scholarship exam for St Bartholomew's Hospital. Instead, due to his excellent record at Pembroke College and his experience during the war he was offered a Burney Yeo Scholarship at King's College Hospital. He began work at the hospital in July 1917 as the House Surgeon in the ear, eye, nose and throat department, later becoming the House Anaesthetist, the House Surgeon and finally the Senior House Surgeon as his studies and experience increased. Again, his work ethic is illustrated by the fact that at the same time as studying and working at King's, he also attended Queen Charlotte's Lying-In Hospital, in two weeks attending 25 childbirths to gain experience in this area of medicine. He also attended a three month course at the Park Hospital in the diagnosis and treatment of fevers, passing the course on 10 January 1918. All this hard work paid off handsomely with the award of his Membership of the Royal Colleges of Surgeons (MRCS) and Licentiate of the Royal College of Physicians (LRCP) certificates on 10 February 1919.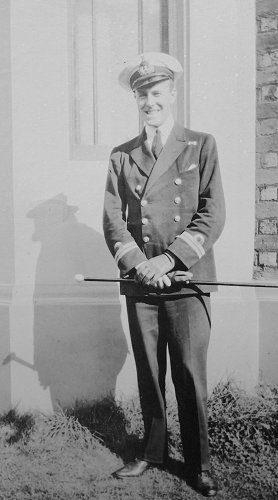 The newly promoted Surgeon Lieutenant Myles Bickerton.
With the award of his certificates he was promoted to Surgeon Lieutenant in the RNVR and posted to the Royal Naval Hospital at Chatham, where his studies continued, passing his Bachelor of Surgery (B.Ch (Cantab)) examinations in May 1919. Later that month, he was posted to the battleship HMS Royal Oak as Surgeon Lieutenant, a post he was to be demobilised from in January 1920.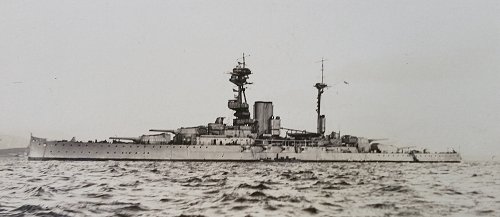 HMS Royal Oak.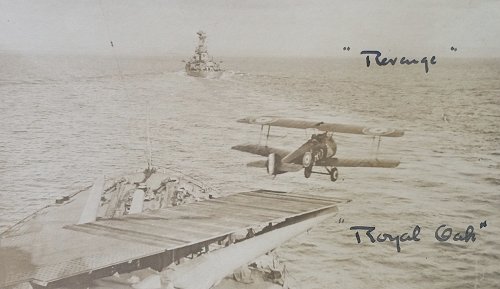 HMS Royal Oak was fitted with aircraft platforms over the guns of B turret. Myles was fascinated by the concept of aircraft operating from the ship.
Having left the RNVR, Myles immediately returned to King's College Hospital as the Senior Resident and Casualty Officer. On his first day, a three week old baby had been brought in by its mother who believed the baby had died of a respiratory obstruction. With supreme confidence, Myles performed a deft tracheotomy, the baby recovering and being sent on to a fever hospital as Myles diagnosed the child was suffering from diphtheria. The fever hospital wrote to congratulate King's on their prompt action, as there was no record of a child so young surviving such a procedure. During this time, a friend recommended Myles for an unusual job, again, at sea. Sir Robert Houston and Lord Birkenhead were taking Houston's private yacht, the "Liberty" on an extended winter cruise from the UK to Norway then down to the Mediterranean. Myles was hired as surgeon to the yacht and surgical specialist to the principals on board, a job that was to take him through to May 1921, when he returned to the UK to continue his studies.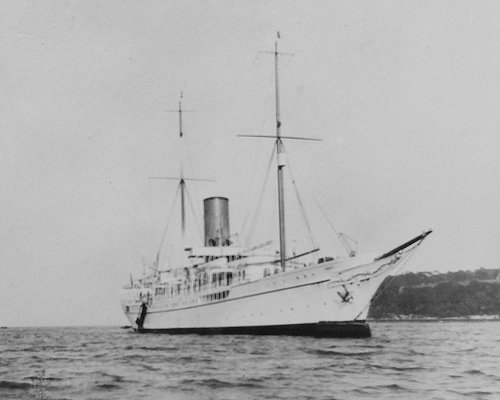 The elegant lines of the Liberty, the steam yacht belonging to Sir Robert Houston.
Myles' next goal was to gain his Fellowship of the Royal Colleges of Surgeons (FRCS) which would allow him to practice as a senior surgeon. For the next two and a half years he would undertake a Fellowship course at St Bartholomew's Hospital, working there and at eight other London hospitals in various specialisations, including in orthopaedic and children's surgery. Typically, while working on his studies, he also worked as the Clinical Assistant in Ophthalmology at King's College Hospital, a job he was to continue into 1924. Again, his hard work was successful with his FRCS certificate being awarded on 27 December 1923, making him the youngest surgeon to achieve this qualification. For the next two years Myles was to increasingly specialise in eye surgery, working as the House Surgeon in Ophthalmology at King's and the Clinical Assistant to the Royal Eye Hospital between 1924 and 1925. This work translated into promotion to become the Ophthalmic Surgical Registrar and Ophthalmic Tutor at King's in May 1925, as well as becoming the Honorary Assistant Surgeon at the Royal Eye Hospital.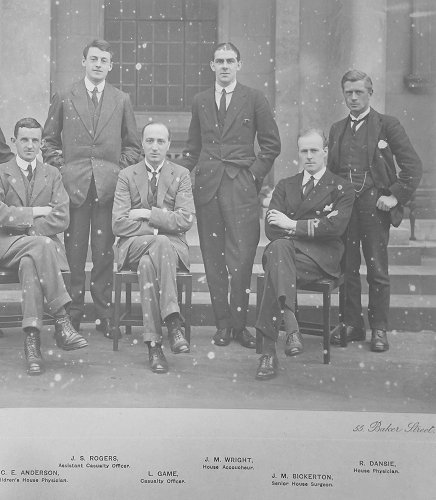 The residents at King's College Hospital in 1919.
In 1926, Myles married Margaret Alsager Hawdon, the daughter of Colonel Hawdon whose family had been hard hit by the First World War, three brothers being killed and one being repatriated suffering from shell shock. While Myles continued his practice in London, as a country retreat he built a small timber and brick house on Slade Oak Lane in Denham that would be modified and extended over the years. He also had begun flying at the Aero Club at Hanworth, gaining his pilot's certificate in 1933 and purchasing a de Havilland dH.60 Moth, G-ABAG. This aircraft had previously been flown by Amy Johnson amongst others, and still flies today as part of the Shuttleworth Collection.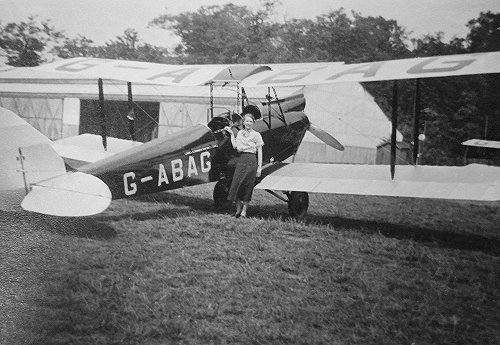 G-ABAG, the dH60 Moth that Myles bought after learning to fly at Hanworth. Standing in front is Margaret Alsager Hawdon, who Myles married in 1926.
Myles wanted to acquire a field near his house in Denham where he could keep his aeroplane. Major Gerald Oscar Way owned some land which would be ideal, it was flat, well drained and had clear approaches in most directions. Beginning on 24 June 1933, Myles made five flights into the field at Denham, ascertaining its suitability for flying. In February 1934, Myles purchased the first part of what would eventually become Denham Aerodrome as we know it today. Appropriately, Myles himself in G-ABAG was therefore the first aircraft to land at the new site, known initially by the name Hawksridge Aerodrome. He was soon followed by Cyril Mills of Bertram Mills Circus in his de Havilland dH.87 Hornet Moth, who asked if the hangar Myles intended building on the site could be large enough to accommodate his aircraft as well. This was followed by two more requests within a year, one from Eric Pasold, the founder of Ladybird childrens clothes. As a result, the first hangar built at Denham was large enough to accommodate three aircraft. In this almost accidental manner, the airfield began to attract other aircraft, which would see the steady expansion of the facilities over the next few years, as will be related in the next instalment.
| | | |
| --- | --- | --- |
| | | |