1920 - After the War to end all Wars
As has already been related, John Myles Bickerton purchased the first area of land for his aerodrome in 1934, intending it purely as a landing ground for his own aircraft. That this was to grow into the Denham Aerodrome we know today can be considered almost accidental, as other aircraft owners began to ask for permission to use the facility and Myles was happy to accommodate them. However, this did not mean that the airfield was disused after the Royal Air Force left in 1919. The golf course was re-established after the First World War's end and a number of VIP visitors to the club flew in to play.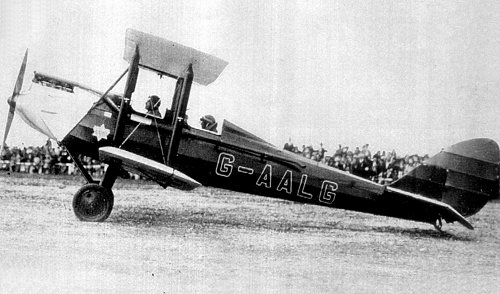 The first aircraft owned by the Prince of Wales, later King Edward VIII was G-AALG, a de Havilland dH.60 Moth.
The land to the North of the golf course had been part of the military airfield as it was flat and well drained, factors that were to attract the attention of Myles Bickerton later. After the war ended it reverted to pasture, so was an ideal landing ground for visitors to the golf club. A wide variety of aircraft and visitors were to use the fields, including VIPs such as the Prince of Wales, later King Edward VIII. The Prince of Wales had begun flying in 1916, and had flown with Major William Barker VC in Italy, although when he heard of this, King Edward VII forbade any further excursions by his son. However, during the 1920s he relented and the Prince of Wales began flying again, gaining his licence and purchasing his first aircraft, de Havilland dH.60 Gipsy Moth G-AALG in 1929.


Two of the de Havilland dH.80a Puss Moths owned by the Prince of Wales and resplendent in his colour scheme, red upper fuselage and blue lower, with a red stripe up the centre of an all blue fin and rudder.
The Prince of Wales was to own a large number of aircraft including another dH.60, four dH.80a Puss Moths, a dH.84 Dragon, a dH.83c Fox Moth, several dH.89 Dragon Rapides and a Vickers Viastra X which was used as a transport on official occasions. He also owned a Comper CLA.7 Swift powered by a Gipsy engine to further his interest in air racing. It was in dH.84 Dragon G-ACGG that the Prince made his visit to Denham in 1933.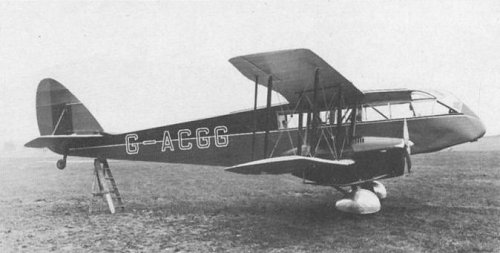 The Prince of Wales' de Havilland dH.84 Dragon was used to fly into Denham to allow the Prince to play Denham Golf Course.
Most of the Prince's aircraft were painted in the blue and red colours of the Brigade of Guards, a striking scheme that was to become the official colours of Royal aircraft for many years. While he flew himself, the Prince also employed an official pilot, Flight Lieutenant F E Fielden. When the Prince succeeded to the throne as King Edward VIII, he founded the King's Flight with Fielden as captain, a post he was to hold until 1961, retiring as Air Vice Marshal Sir Edward Fielden. Prior to the Flight being founded, an aircraft of the Communications Flight of 24 Squadron based at RAF Northolt had been set aside as a VIP transport. Initially, in 1928, a Bristol F2b Fighter was the aircraft that was used.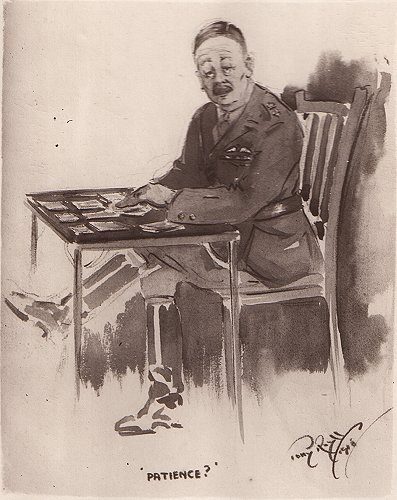 One of Toni Roylf's caricatures, the commanding officer of No. 5 School of Aeronautics at Denham, Colonel The Lord Alastair Robert Innes-Ker, brother of the 8th Earl of Roxburghe.
Aside from the visitors to the golf club, there were a number of other landings and take offs from the fields, mostly light aircraft owned locally or those who knew of the former use of the land during the First World War. Meanwhile, Myles Bickerton was learning to fly at the club at Hanworth and continuing to build his practice as an eye surgeon. His professional reputation was growing with the publication of a number of studies and papers, including "The Inheritance of Blindness" and "Welfare of the Blind and the National Economy" in 1932 and "A Modern Treatment of Squint" in 1934. As already mentioned he had purchased land to build a country home in Denham in 1926. He became a patient of a local dentist, Dr Simpson, who had been a Surgeon Lieutenant of the battleship HMS Resolution at the same time as Myles had been in that position aboard HMS Royal Oak. Dr Simpson married Miss M K Fraser, who had been in charge of the Women's Army Auxiliary Corps at Denham during the First World War. Knowing Myles had built his aerodrome on the site of RAF Denham where Mrs Simpson had served during the First World War, she gave him a set of caricatures of many of the officers who had also served there. They were drawn by one of their number, Toni Roylf. The Officer Commanding at that time was Lord Innes-Ker, who had been billeted at The Marish.
| | |
| --- | --- |
| Toni Roylf's caricature of Malcolm Campbell. | Toni Roylf's caricature of the camp Doctor. |
| Toni Roylf's caricature of Captain Harrison, the Sports Officer. | Toni Roylf's caricature of Denham Sergeant Majors, Sgt Maj Robbins on left. |
| Toni Roylf's caricature of an unidentified pipe smoking Major. | Toni Roylf's caricature of Captain Tom Walls RFC, a famous actor. |
| Toni Roylf's caricature of Captain Parker-Jarvis, the Adjutant. | Toni Roylf's caricature of himself. |
As already mentioned, Myles wanted to develop an aerodrome close to his country home in Denham. Although a prominent neighbour told Myles that the local residents would never tolerate "air hogs" at Denham, the First World War had convinced him of the importance of aviation so he persisted. He began making test flights into the field he had chosen on 24 June 1933 to check its suitability for flying. This led to Myles' purchase of the first 32 acre field in 1934. The story of Denham Aerodrome was about to take off, as will be related in the next instalment.
| | | |
| --- | --- | --- |
| | | |